Du willst gesündere und motiviertere Mitarbeiter und einen besseren Zusammenhalt in deinem Team? Dann bist du hier richtig. Teamfit schafft es mit dem einzigartigen Konzept für langfristige Motivation zu Sport und Bewegung zu sorgen. Darüber hinaus stärkt das durchdachte System den Zusammenhalt im ganzen Unternehmen, auch über mehrere Abteilungen und Standorte hinweg. Das ist gut für die physische und psychische Gesundheit und schafft gesündere, motiviertere und leistungsfähigere Mitarbeiter!
Motivation pur für das ganze Unternehmen
Mit individuellen Gesundheit-, Fitness- und Sportchallenges motivierst du deine Mitarbeiter zu einem aktiveren und gesünderen Lebensstil.
Gemeinsame Zielvorgaben fördern die Aktivität der einzelnen Abteilungen. Große Aufgaben oder Wettbewerbe verbinden auf eine einzigartige Art und Weise das gesamte Unternehmen.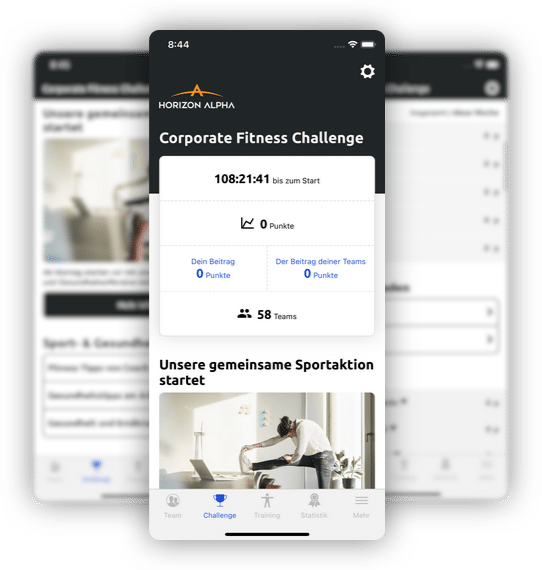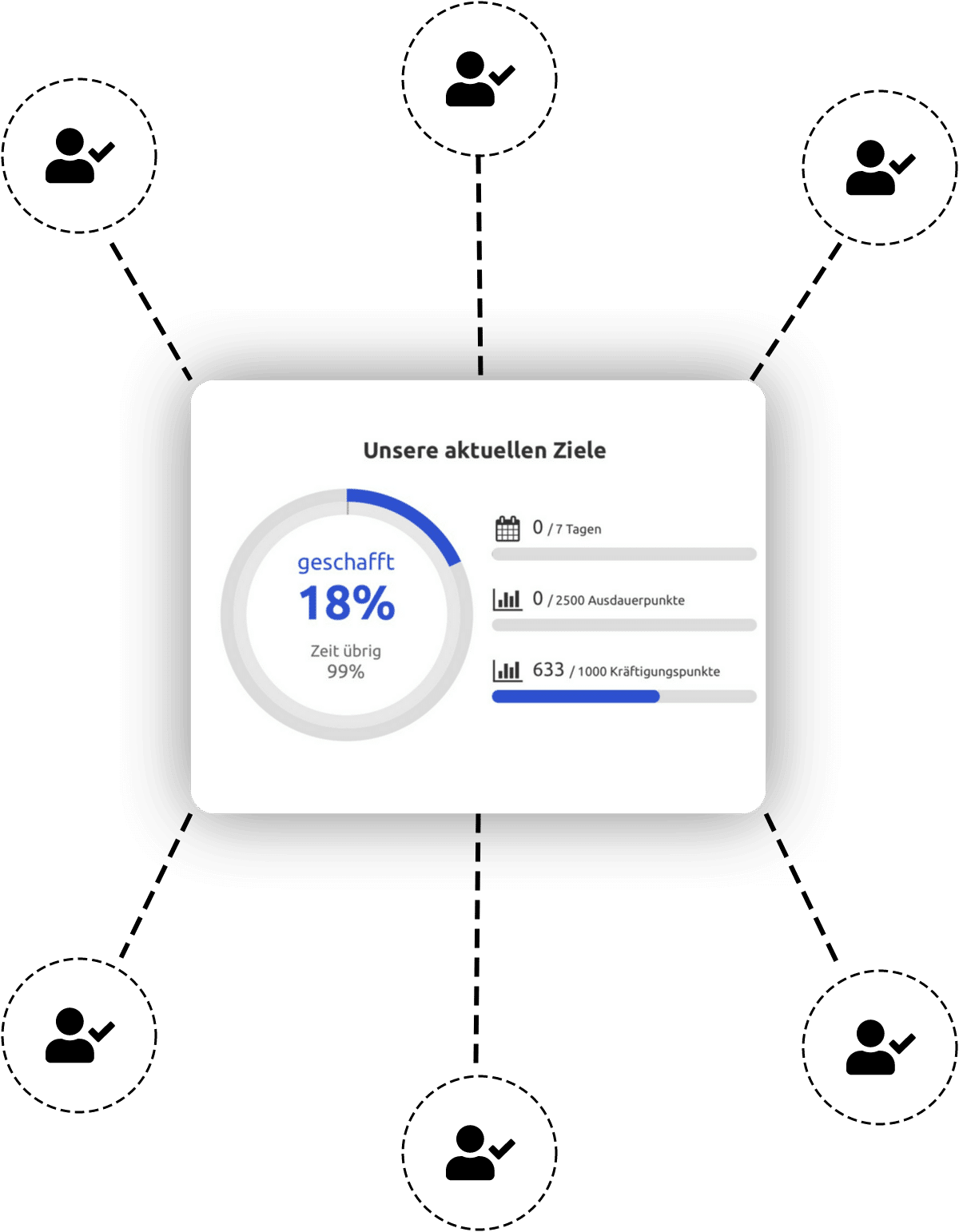 Team goals for long term motivation
Every team can be managed manually by a team captain, or by our revolutionary AI. Ether of them sets short term team goals, which will be achieved together by the team. This creates long term motivation.
Die beste Sportapp, angepasst an dein Unternehmen!
Zahlreiche Sportarten, GPS-Tracking, Video-Beschreibungen, angeleitete Yoga Sessions, GoogleFit / Apple Health Anbindung und Vieles mehr.
Die Teamfit App bietet die ideale Basis für die Sport-, Fitness und Gesundheitsaktionen in deinem Unternehmen.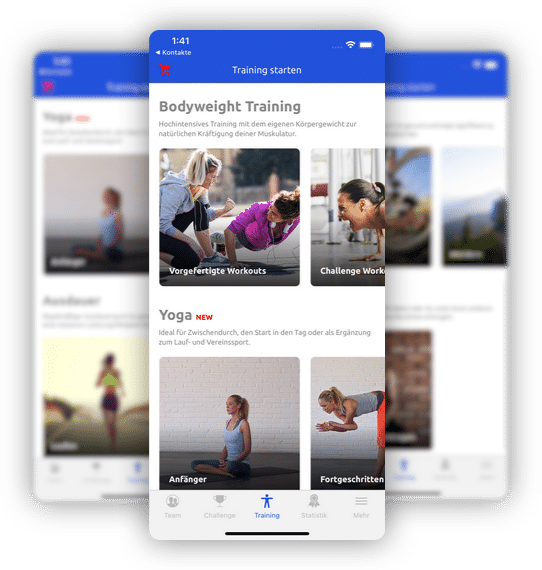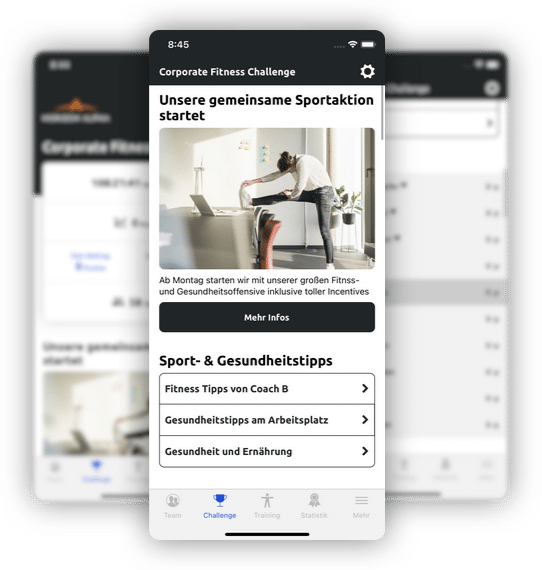 Redaktionelle Betreuung der sportlichen Aktivitäten
Du kannst deine Challenge entweder selbst redaktionell betreuen oder unser Expertenteam aus erfahrenen Motivatoren und professionellen Coaches begleitet deine Aktion für dich mit interessanten Gesundheitstipps, spannenden kleinen Wettbewerben und viel positiver Energie.
Have a look at
our references

The BMW group uses Teamfit to organize an international sport and fitness challenge with employees in more than 15 countries.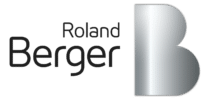 The consulting firm Roland Berger uses Teamfit as part of its overall corporate health management to motivate employees across all locations to live a healthier and fitter life.

The Landessportbund NRW has already held several challenges with its member clubs. Thousands of participating teams have completed hundreds of thousands workouts as part of these challenges.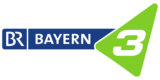 BAYERN 3 announced the Fitness Spring as the official sports challenge for all listeners. With over ten thousand participants and more than 6,000,000 minutes of sport completed, the campaign was a complete success.
...and more than 1,500 other companies, universities, schools and clubs.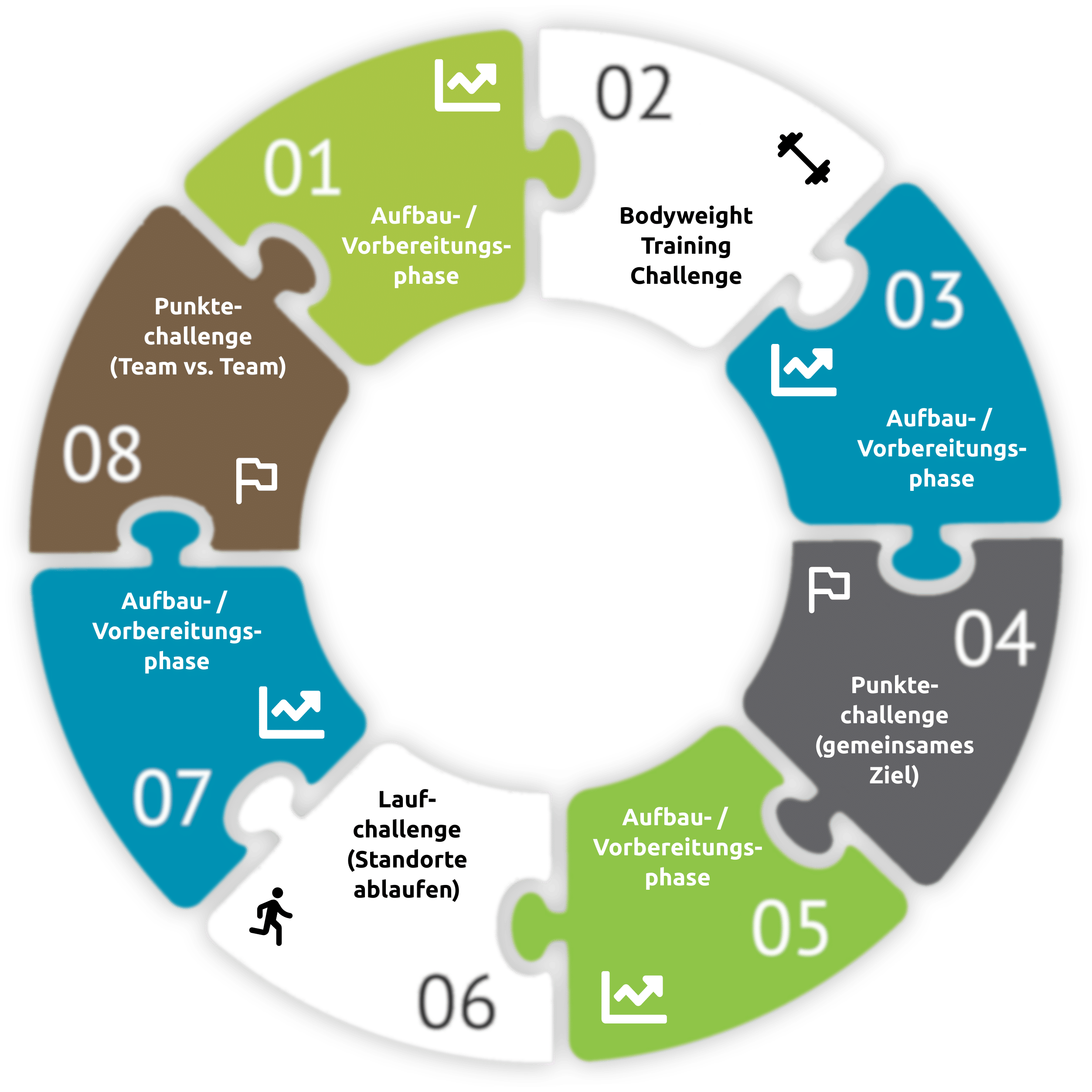 Ganzjährige Betreuung deiner Mitarbeiter
Unser ausgefeiltes Konzept beschränkt sich nicht auf einmalige Challenges. Auf Wunsch übernehmen wir die ganzjährige sportliche Betreuung deines Unternehmens. Abwechslungsreiche Challenges, fachliche Betreuung, hilfreiche Tipps und professionelle Ansprechpartner für dein Unternehmen. Immer erreichbar, das ganze Jahr!